Blog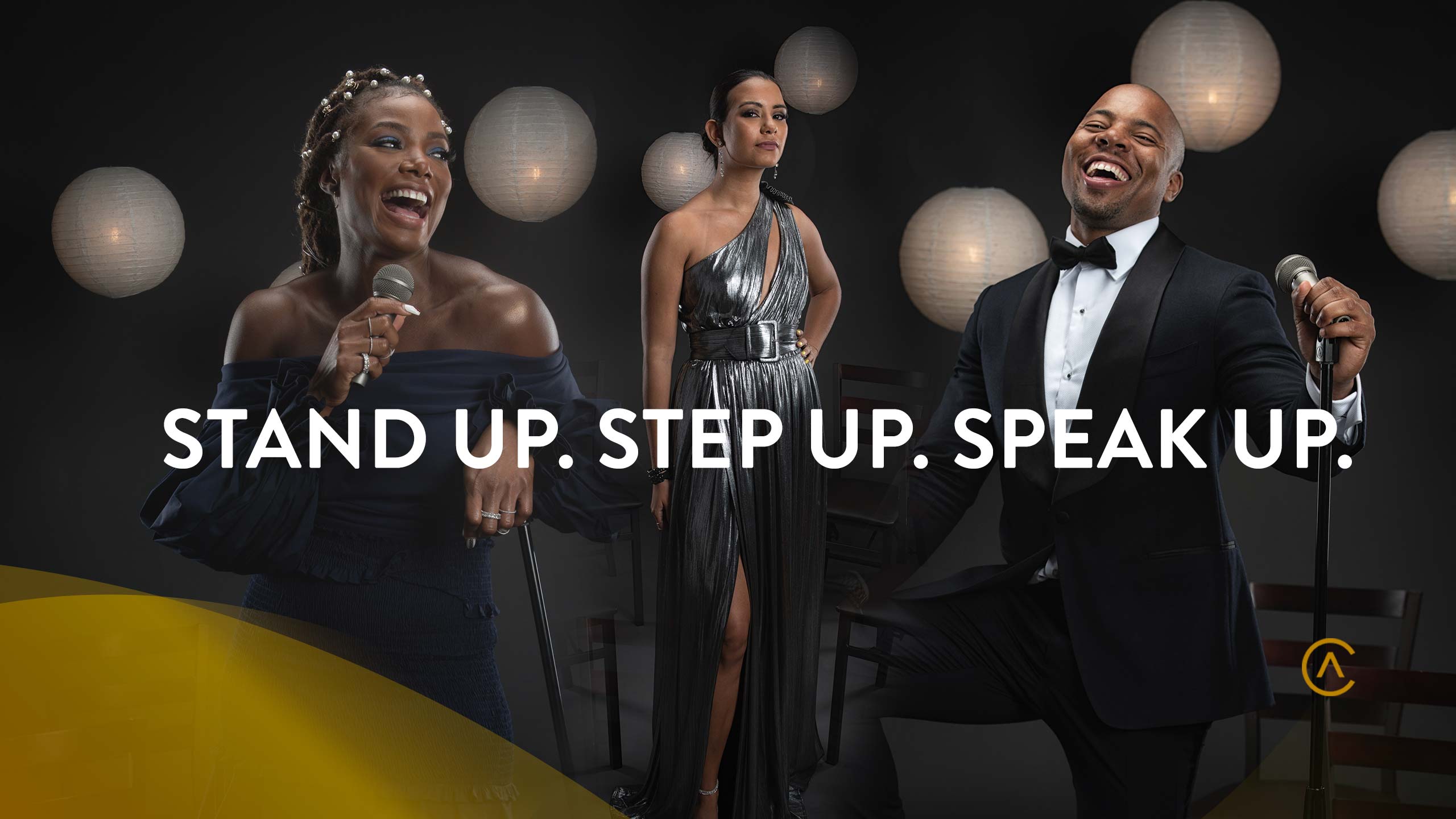 By Akintayo Adewole, photographer and cinematographer
———
"Taking a stand" isn't a new idea or a foreign concept. It's a choice; an important choice that often few choose to make, usually out of ignorance, fear or indifference… but when we stand up for what we know is right, it helps others find the courage to do the same. For this year's portrait shoot, I wanted to convey simply what it means to make that choice. Stand up, step up and speak up. You can't physically sit and stand at the same time. You can't be on the sidelines and expect to have an impact in the game. Therefore, chairs in the back, step up and speak into the mic in the front. Let your voice be heard. Follow up with action for the change you want to see.
I really enjoyed hearing Liz Jackson's version of this. As we both sat in the hallway waiting to get shaped up on the Saturday of the conference, I was gifted with hearing her inspirational story on how she embraced her disability and is helping to redefine how it's viewed and considered by others. It's not a sympathetic after-thought: it's an upfront consideration to be baked into relevant designs, user interfaces and infrastructure. She chose to be the change she was looking for.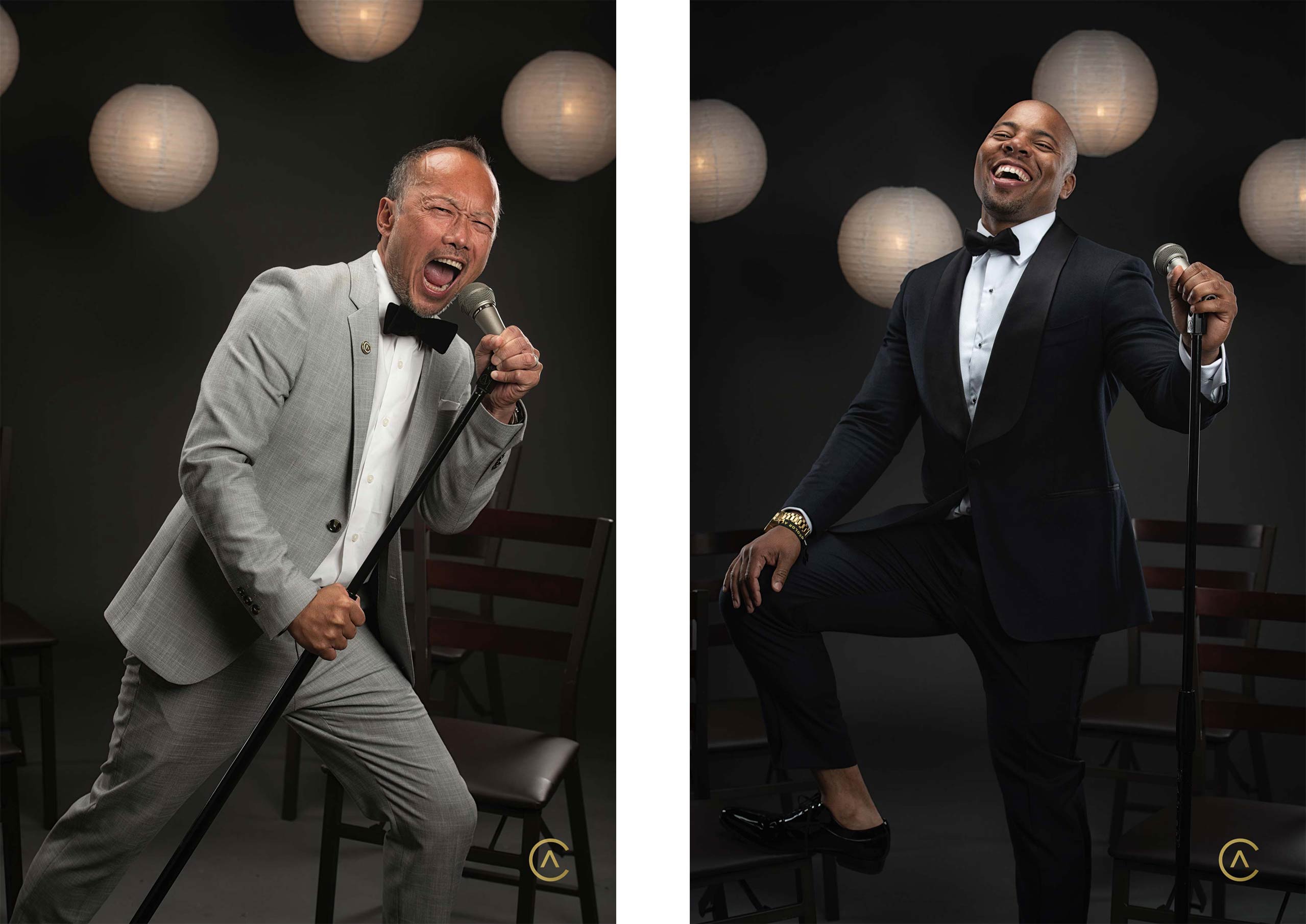 Robert Wong, 2019 ADCOLOR/One Club Creative Award Honoree and Dhane Scotti, 2019 ADCOLOR Rockstar Honoree. Photography by Akintayo Adewole.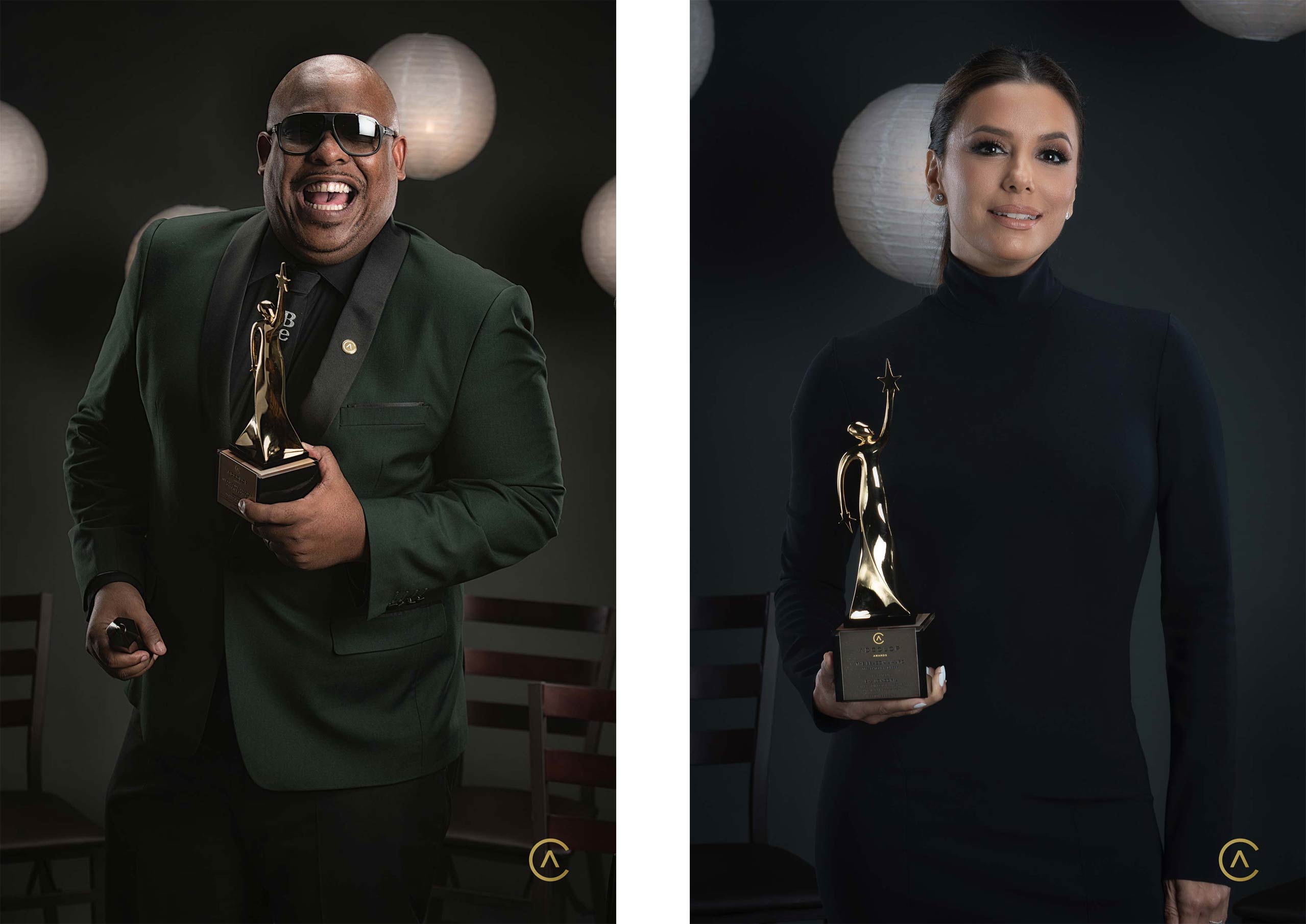 Brandon Rochon, 2019 ADCOLOR/One Club Creative Award Honoree and Eva Longoria, 2019 ADWEEK/ADCOLOR Beacon Award Honoree.
All of the honorees from this year have chosen to be that change. They've chosen to take a stand, each in their own way. I didn't have to explain the portrait setup. They got it. Presenter Derek 'Fonzworth Bentley' Watkins immediately said, "I know what I want to do." His portrait not only portrays stepping up to the mic himself, but giving others an opportunity to do the same. I love that. It reminds me of what ADCOLOR is all about. Rise up. Reach back.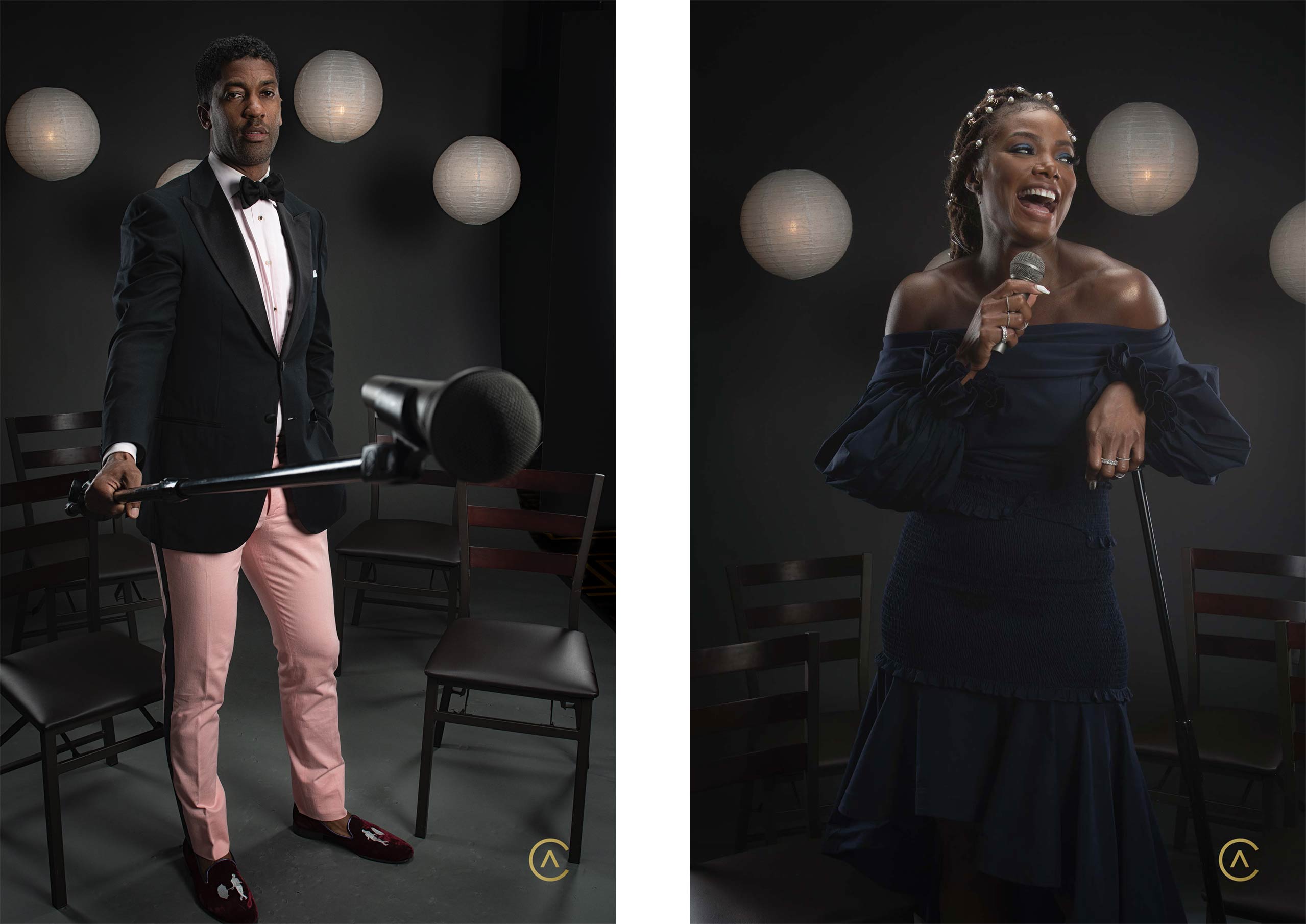 Derek 'Fonzworth Bentley' Watkins, presenter at the 2019 ADCOLOR Awards and Tai Beauchamp, host of the 2019 ADCOLOR Conference.
We all have one or more ways we can take a stand. On the way to school every morning, for the first half of the car ride, my 11 and 12 year old girls are required to listen to NPR, take notes and summarize two stories they heard. The incentive: to listen to their favorite music for the 2nd half of the ride. Last week, we heard a story about how Lupita Nyong'o grew up wishing her dark chocolate skin could be as light and fair in color as her sisters'. It took years before she realized just how beautiful she was both inside and out. After their reports, I asked my girls, "How do you feel in your skin?" One said "comfortable". The other said "average". All of this is a snapshot of how I personally take a stand; by 1) making sure my kids are aware of and knowledgeable about the world they will inherit and 2) that they know and love themselves for who they are and are constantly working towards being the best version of themselves in that world. I have to take a stand against the often less than empowering outside influences my kids are subjected to… and I can't let up.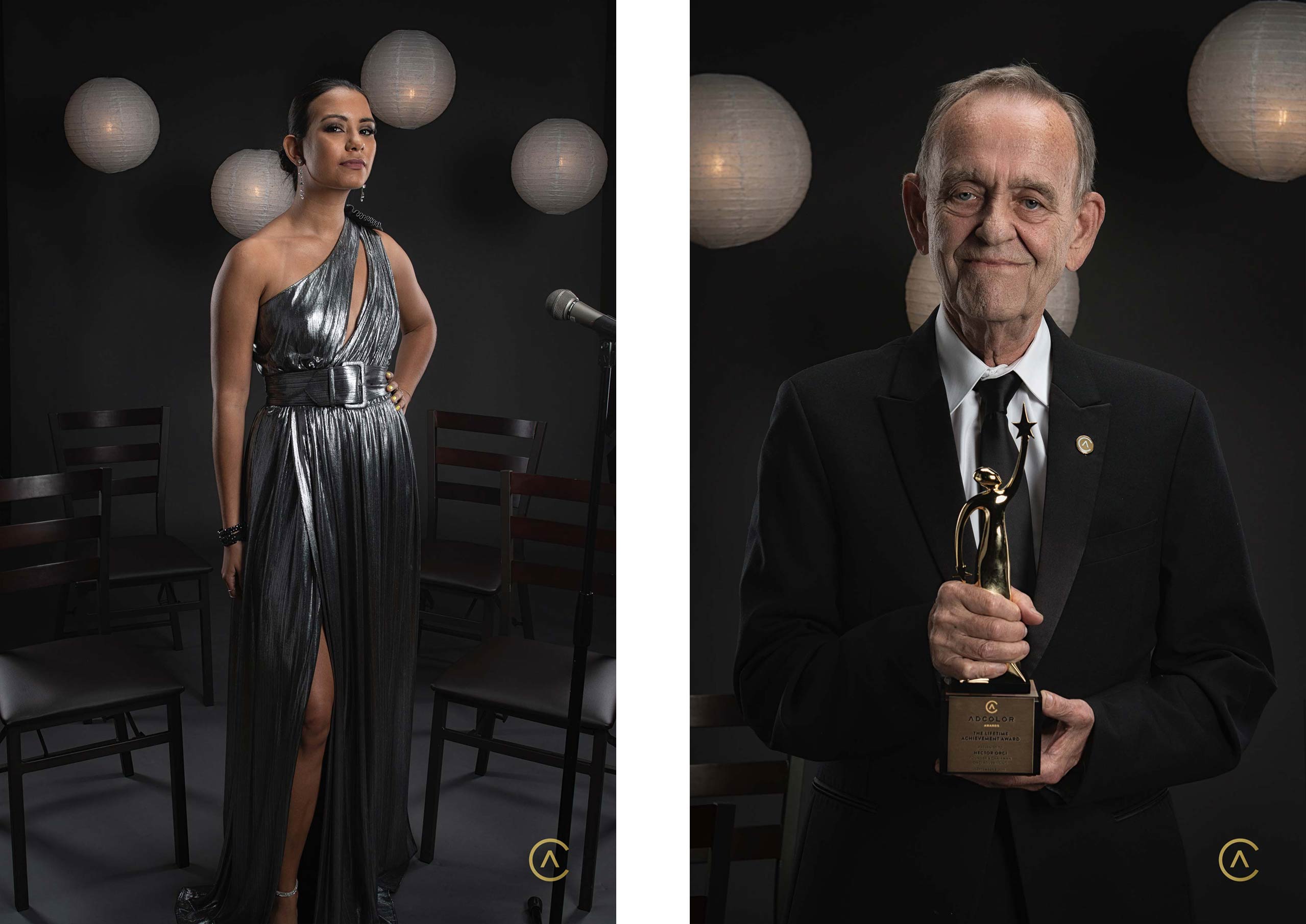 Criseli Saenz, Programs Manager at ADCOLOR and Hector Orcí, 2019 ADCOLOR Lifetime Achievement Award Honoree.
Ensuring we do not accept the status quo, starting and fueling conversations around the change we want to see in both ourselves and the world around us and doing what needs to be done is the only way forward. There are no shortcuts. The good news is that we can accomplish all of this hard and necessary work… if we do it together.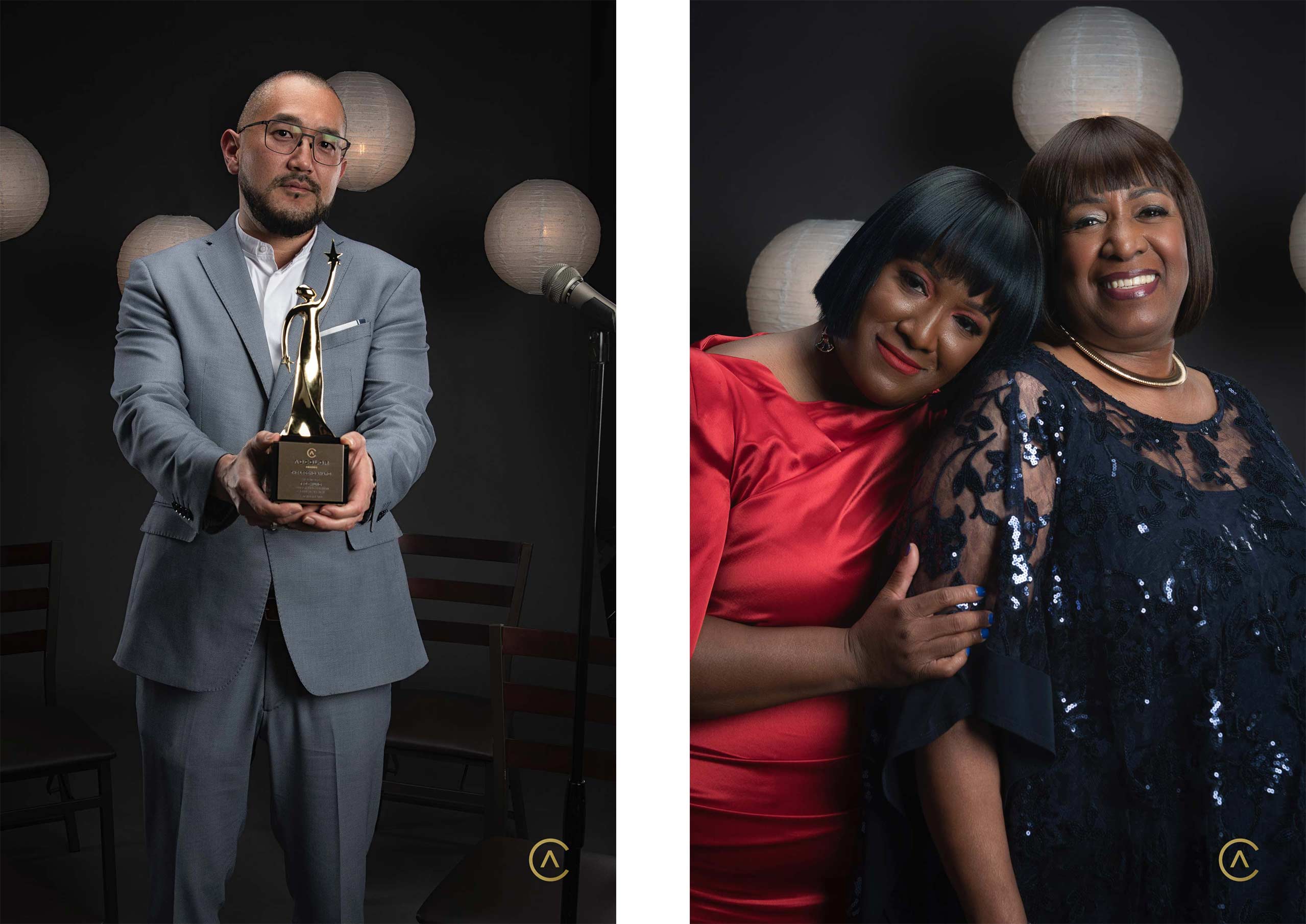 Ted Chung, 2019 ADCOLOR Legend Award Honoree and Tiffany R. Warren, Founder & President of ADCOLOR with her mother Linda E. Champion.
Categories
PR Contact
Katie Beaule
Press Releases from our media partners: MMR news, PRnewswire