Blog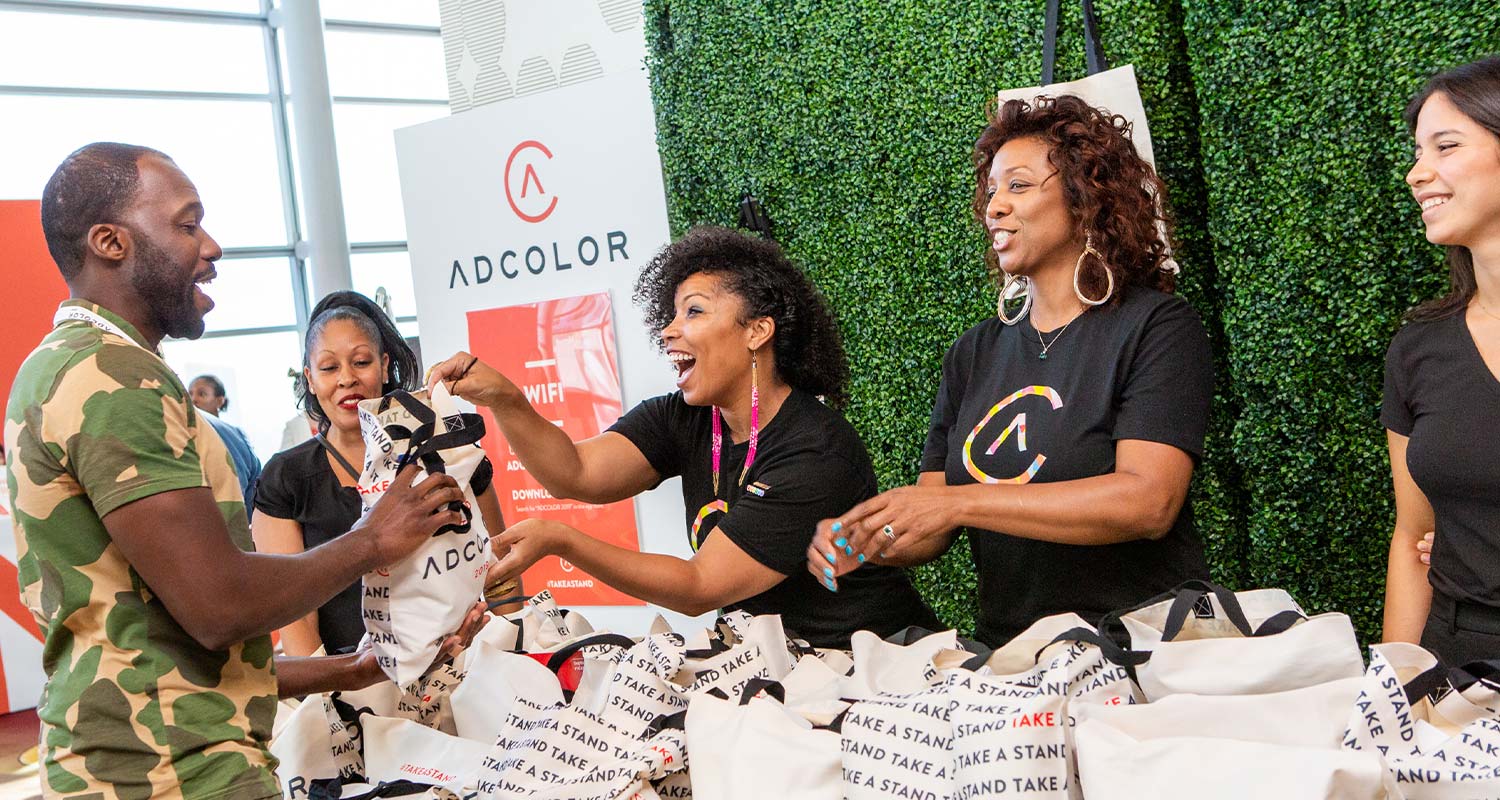 NEW YORK, August 12, 2020 – ADCOLOR, the premier organization dedicated to celebrating and promoting professionals of color and diversity in the creative industries, today announced registration for its 2020 event, ADCOLOR Everywhere, is now open. ADCOLOR Everywhere, which includes the ADCOLOR Conference, ADCOLOR FUTURES program and the 14th Annual ADCOLOR Awards, will feature 49 hours of content, 17 mainstage panels, two concerts and a stellar award show across three days. The virtual event will take place from September 8-10th, and attendees can register at adcoloreverywhere.virtualeventsite.com.
ADCOLOR is offering two registration packages this year: ADCOLOR Everywhere Complimentary or ADCOLOR Everywhere Unlimited. The Complimentary package is free and provides access to mainstage content, the FUTURES Hackathon, the ADCOLOR After Dark Concert and the ADCOLOR Award Show & After Party. The Unlimited option, which has a $200 fee, includes all items offered in the Complimentary package as well as an additional 55 breakout sessions featuring over 100 industry thought leaders. Unlimited ticket holders will have access to content through December 31, 2020 and will also unlock networking and live engagement opportunities.
Beginning on September 8th, registered attendees will be able to view ADCOLOR Everywhere content directly from the virtual event site. Content will also be streamed live to a variety of ADCOLOR's social media platforms.
"As is clear from our title, we want to bring ADCOLOR everywhere this year, and we're hoping to do so by eliminating as many barriers as possible for our community," said Tiffany R. Warren, Founder and President of ADCOLOR. "We felt that the wider reach was especially important considering the challenges we have endured as a society this year. It's safe to say we all need this time to inspire and champion one another, as well as to engage in meaningful discussions on what progress and change will look like moving forward."
As part of the annual event, the 2020 class of ADCOLOR FUTURES will be participating in the ADCOLOR FUTURES Hackathon. Embracing the 2020 theme of "Here For It", the topic of this year's hackathon, presented by Apple, will be "Here For Racial Justice". In small teams and with the help of industry coaches, the FUTURES will use collaboration, design thinking and rapid prototyping skills to build a creative solution to a unique challenge presented that day. They will be given a platform to present their ideas to a panel of judges and industry professionals, and winners will be announced at a later time during the conference.
Please continue to visit adcoloreverywhere.virtualeventsite.com and follow @adcolor on social media for additional updates on the conference and award show content.
ABOUT ADCOLOR
ADCOLOR® is a not-for-profit 501(c) (6) organization whose mission is to celebrate and champion diversity in the creative industries. Our process is twofold. First, we help individuals and organizations RISE UP, letting their accomplishments and ideas shine. Then we teach these new leaders and would-be-mentors how to REACH BACK and find others who deserve to be noticed and promoted. Our goal is to create a community of diverse professionals who are here to support and uplift one another. Learn more by visiting www.adcolor.org.
ADCOLOR Everywhere Partners
Facebook, Google | YouTube, Omnicom Group, Diageo North America, Disney Advertising Sales, Procter & Gamble, Snap Inc., TikTok, Verizon Media, Apple, Adweek, GSD&M, Citi, Edelman, MSL, Pandora, Spotify, iHeartMedia, Microsoft, 72andSunny, Deutsch LA, Pinterest, Squeaky, Comcast NBCUniversal, Epidemic Sounds, Ferrera, Hill Holiday, McCann NY, Next-door, Omnicom Media Group, Roundel, S4 Capital, LinkedIn
ADCOLOR Corporate Members
72andSunny, The ADVERTISING Club of New York, American Advertising Federation, Deutsch LA, Droga5, Facebook, Hearst Magazines Division, JKR, MSL, Omnicom Group, The One Club for Creativity, Snap Inc., Stephen Kim
Categories
PR Contact
Katie Beaule
Press Releases from our media partners: MMR news, PRnewswire