Blog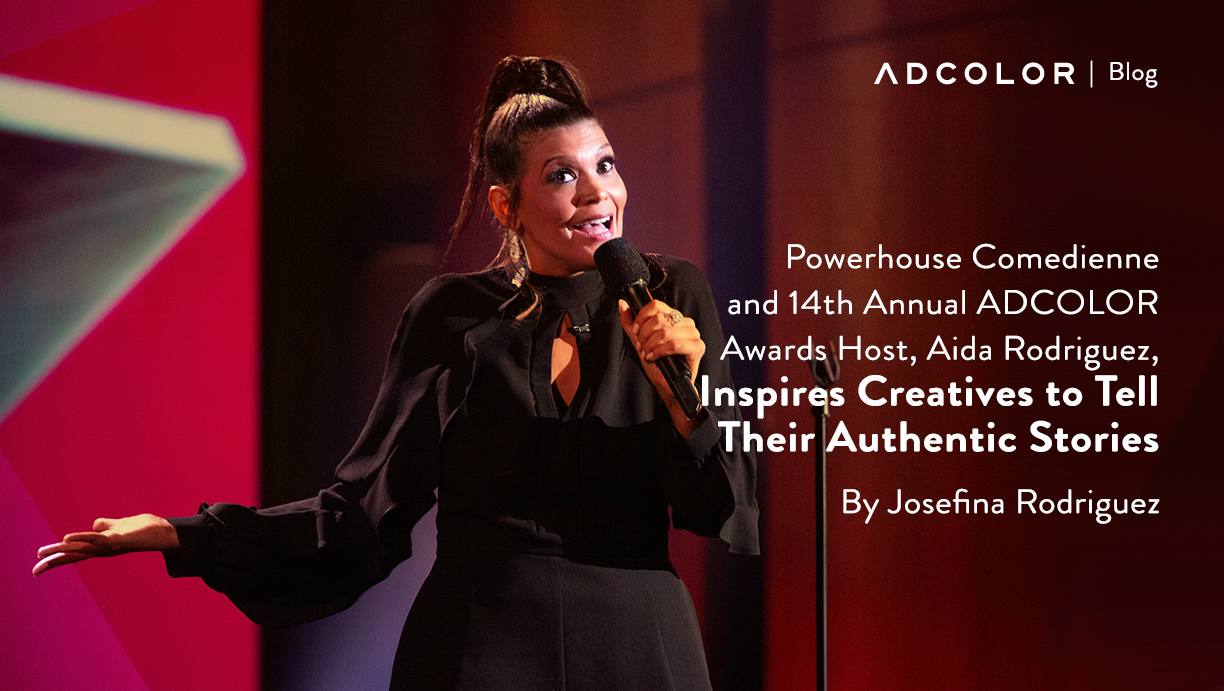 Powerhouse Comedienne and 14th Annual ADCOLOR Awards Host, Aida Rodriguez, Inspires Creatives to Tell Their Authentic Stories
By
ADCOLOR
September 2, 2020 |
ADCOLOR
,
News
By Josefina Rodriguez
Charismatic comedienne, Aida Rodriguez, has always been her authentic self throughout her brilliant stage and production career, proving there's no glory in trying to fit in. A breath of fresh air in the comedy world, Aida has been shaking things up her own way, rocking a fearless attitude, bold personality, and an even bolder voice.
Aida made history as the first Latina to appear in two comedy specials airing in one month on both HBO and Showtime and is currently developing a half-hour scripted series with Warner Media. She has appeared on Comedy Central's The Nightly Show, and NBC's Last Comic Standing. In 2019, Aida took the comedy world by storm with her half-hour special featured as part of Tiffany Haddish's breakout series They Ready on Netflix. And this year, Aida will close out ADCOLOR Everywhere as the host of the highly anticipated 14th Annual ADCOLOR Awards on September 10th.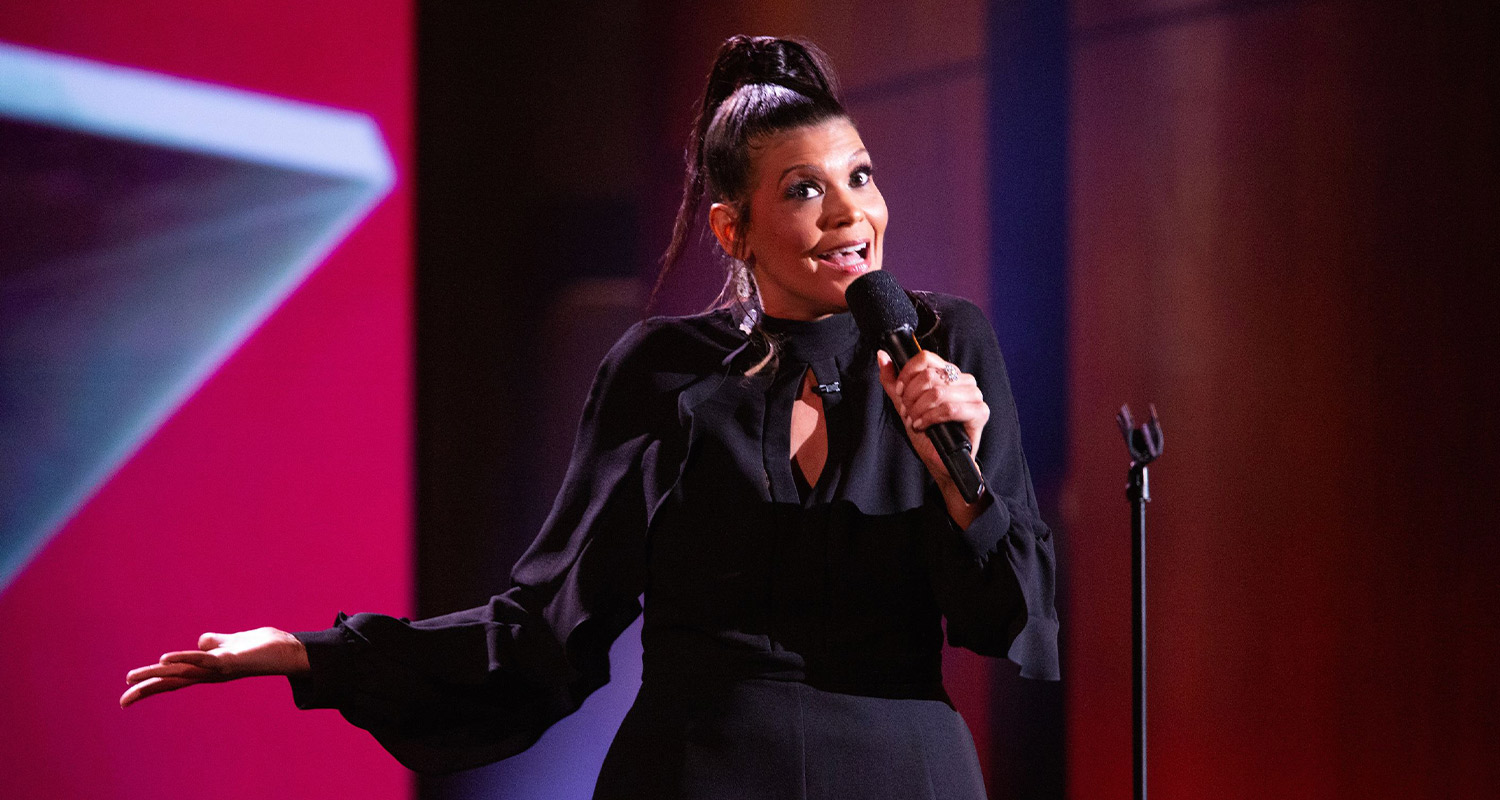 Beth Dubber/Netflix
What many people don't know is that Aida has been breaking molds since the day she was born. "Recently, my daughter saw my birth certificate and noticed it didn't have a race on it," Aida says. "They didn't put anything. I was born in Boston, and so it has my name, my parents name, my weight, but it doesn't have a race; and it's because they didn't know how to classify me at the time."
As an AfroLatina of Dominican and Puerto Rican descent, representing the shades of diversity of intersectional experiences within the Black and Latinx community is essential to her, and she has been galvanized to give a voice to the backgrounds and individuals that have little space in media and comedy. "I want to create ways for other AfroLatinas and Latinos and Latinx people to come along and tell their stories too. We need a spectrum."
"It's very important to give a voice to people that live all over the world that you never see because so much of the media is representative of Eurocentric beauty standards and image standards," she explains. "And so, for me, it's important to give a voice to the little girls that look like me. There's a spectrum of Blackness, and it's not just racial, it's also cultural. Black people come from all over the world, and we also come in all shapes and colors."
This conviction is made even more critical with the realization that comedy is a genre that has long been dominated by stories from the perspective of straight White men. "The majority of my colleagues in comedy are White men. They've always dominated comedy and it's always been a White man's world. Late night television has always been hosted by White men until Lily (Singh) came along," Aida notes.
It can be challenging for marginalized people to aspire to roles and positions when they can't see anyone that looks like them to open the possibility. So how can you "be" what you can't see?  "I have to be it," Aida affirms. "I have to create the hero that I want so that I can provide it for the young people behind me and the little girls and little boys and the non-binary children who don't have a hero."
Aida's comedic approach is to tell stories ripped from the pages of her own life. She narrates the ordinary, with characters that are reflections of the world in which we live, without shying away from controversial topics like race, gender, sexuality and family dynamics. She is deeply inspired by people from the real-world, like her neighbors from "La Cuadra", her affectionate nickname for the block where she grew up. "I think those people are the most magic because in spite of all of the systemic ills, they've been able to accomplish so many things."
This is why her stories focus on the myriad of experiences from an AfroLatina perspective. "They deserve the stage, so that people can know that Black is beautiful and it is everywhere," she says. "We are everything; we're not just maids and we're not just criminals. So I think it's very important to give a voice and a face to people who are dehumanized by the media because that plays out in society outside of television and film."
One of the best ways to empower others to tell their stories is the concept of "Rise Up, Reach Back", which has long been ADCOLOR's mission: the idea of individuals rising up, letting their accomplishments and ideas shine, and then these new leaders turning around and reaching back, finding others who deserve to be noticed and promoted. This concept has been central to Aida's career. Her long-time friend, Tiffany Haddish, famously featured six diverse, unsung comedians (one of which was Aida) on her Netflix Special They Ready and helped to propel Aida's career.
"When I did Last Comic Standing, Tiffany Haddish was doing a show called Funniest Wins. We were helping each other through the process," she remembers. "We made a pact that whoever went first would go back and get the other, and that's been part of the way that I work."

Beth Dubber/Netflix
Aida has always felt strongly about paying her own success forward to her "village" of talented and diverse up-and-comers by hiring them for roles on her own productions as comedians, directors, wardrobe stylists and creators. It comes down to utilizing privilege to lift others up.
"It's always been part of my system and it's part of my work model," she explains. "I don't take it lightly. It's like okay, if I create a TV show now, I got to give a voice to the people who don't have a voice so that they can rise and then create their own. You use your privilege to create opportunities for the other people."
Even within the AfroLatinx community, she acknowledges her privilege and wields it to help others. "I can take my light-skin privilege and bring to light that there are often Latinos who are dark skin and they don't look like me. They have a whole different aesthetic and they're just as Latina as I am. I feel like it's my responsibility to do it until I can elevate everyone left."
However, Aida notes that although there are more creators of color than ever, oftentimes the ultimate decisions in media come down to powerful gatekeepers who are not diverse. "We don't just need permission from The Gatekeepers and the green light. We need to have Gatekeepers because we need to have diversity at all levels, and a lot of times we get tricked into fighting for it on the ground level," she adds.
This year Aida will be hosting the first-ever virtual ADCOLOR Awards, which will be fully remote due to the current pandemic. At a time when community is more important than ever, how can we create a connection while remaining socially distant? According to Aida, despite being far apart, this new reality presents an opportunity: "I think that this is a moment to really tap into human connection that isn't just physical. It's important to stay connected talking to people…prioritizing connection on a human level. It's important that you reach out to people and hear their voices and make sure that they're okay. And check on the strong ones because nobody checks on their strong friends."
When asked what advice she has for the next generation of creatives and creators, Aida stressed the importance of authenticity, vulnerability and the courage to be your whole self, which has been the key to her own success. "The essence of who you are is what's imperative in your development, and you can never let anybody change that," she says. "So my advice is always go as you, because you are going to eventually show up anyway. I think it's important to honor yourself and where you come from regardless of if it's poverty, if it's wealth or whatever it is. Be true to the essence of who you are."
To hear more from Aida, be sure to tune in to the 14th Annual ADCOLOR Awards from 7-10pm ET on September 10th. Registration for the virtual event is available at: http://bit.ly/adcoloreverywhere.
Categories
PR Contact
Katie Beaule
Press Releases from our media partners: MMR news, PRnewswire