Blog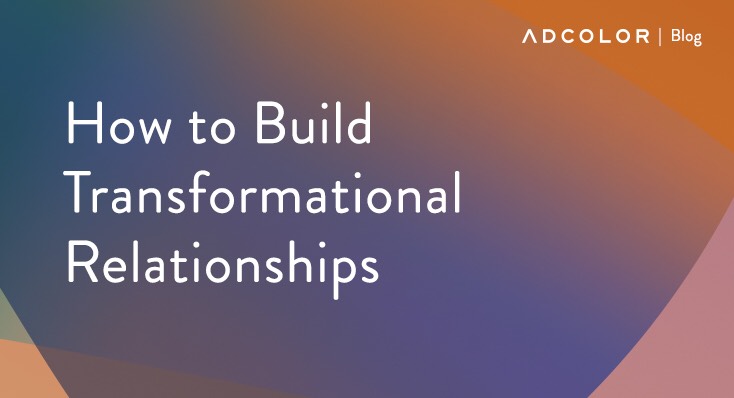 How Storytelling Enables Us to Build Transformational Relationships
By
ADCOLOR
August 23, 2019 |
ADCOLOR
By Brandon Lee Heard, 2018 ADCOLOR Future Alumnus
———
In an era of meeting deadlines, hitting quotas, and winning pitches, we have adopted a model around the way we work with people. The model goes something like this: get it done.
We're so wrapped up in the hustle n' bustle that interactions within the workplace have become lethargic and transactional, very much like business. But we as marketers and creators pride ourselves on transforming our clients' businesses.
How can we create transformational relationships within our walls?
In my experience I have seen that when interactions are transactional, productivity decreases, team dynamics become tense, and work fulfillment becomes unfulfilling. But when relationships become transformational, people, places, and ideas can evolve. It becomes a win-win.
Fact / 85% of the global workforce is actively
disengaged and on average it costing American
organizations $16k annually. [1]
Luckily for us, we already have a tool in our back-pocket that enables us to achieve this.
It's called storytelling.
Last year at the 2018 ADCOLOR Conference and Awards, we learned that storytelling is not only key for winning over the business (we do this every day), but for winning over people as well. It dismantles barriers around communication and productivity, and fosters an environment that enables teams and workplaces to thrive.
Here's why:
Relationships are built on trust.
Trust is established through the exchange of personal information, also known as self-disclosure.
Human beings are emotionally, cognitively and spiritually coexisting; thus, relationships can often be complex and difficult to manage, as people experience the world uniquely.
Whether we are managing down, reporting up, or standing next to someone at the coffee bar, we have to work hard to allow ourselves to share a piece of who we are. Self-disclosure is an essential tool within communication and empathy that enables us to do this.
Fact / 72% of employees in the United States
would consider leaving their company if their
company displayed less empathy. [2]
Self-disclosure is part of storytelling. By sharing pieces of our stories, we engender moments that allow us to connect, find similarities and appreciate one's differences.
It has some positive side effects too.
By fostering an environment that's more open to disclosing information about ourselves, we build trust and reduce cognitive distortion – negative patterns of thinking that derive from hurt feelings, misunderstandings, mis-informed body language, passive-aggressive emails, etc.
We've all experienced this before.
Fact / Cognitive distortion elevates anxiety and
depression and we are currently living in a time where people are
already more anxious and depressed than ever before. [3]
Sharing our story isn't enough.
We have to listen. I have learned that as we work to build transformational relationships, we have to actively listen in order to contextualize the conversations we have. When people invite us into their lives, we have to work harder to devote time and attention to what they are saying.
And when people invite us into their lives, we have to practice mindfulness – being mindful that their invitation is a privilege and that it's up to us to protect that information and honor their decision to share with us in the first place.
Fact / Nearly half of Americans of reported sometimes
or always feeling alone and less than a quarter of
employees "feel strongly connected to their co-workers." [4]
Here's the reality.
Relationships are not easy. In the midst of hitting deadlines and ideating industry leading creative, it's easy to forget that we're working with human beings. Creating transformational relationships through our own stories allow us to connect with one another; it strengthens our team dynamic and allows us to be comfortable with ourselves in the workplace. So, the next time you're waiting for your meeting to begin or standing in line at the coffee bar, ask someone about their story, share a bit of yours – you never know what good can come.
——-
Sources:
[1] State of the Global Workplace, Gallup's State of the American Workplace
[2] Simmons Spring 2018 NHCS Adult Study 12-Month
[3] "Cognitive Distortions, Humor Styles, and Depression." Ed. Nicholas Kuiper. Europe's Journal of Psychology 12.3 (2016): 348–362. PMC. Web. 9 Oct. 2018.
[4] Cigna Loneliness Factor Index, 2017 Employee Engagement Report: The Broken Bridges of the Workplace
——
ABOUT ADCOLOR
ADCOLOR is an annual conference that champions diversity and inclusion. This extends across intersections from race and ethnicity, to sexuality and ability. This year the 13th Annual ADCOLOR Conference and Awards is centered around #TakeAStand. We invite you to industry leading conversations and knowledge sharing around diversity, access, inclusion, and equity within the marketing, tech, and creative industries.
Check us out at: https://adcolor.org/
Follow us on Facebook, Instagram, and Twitter at @ADCOLOR
Categories
PR Contact
Katie Beaule
Press Releases from our media partners: MMR news, PRnewswire