Blog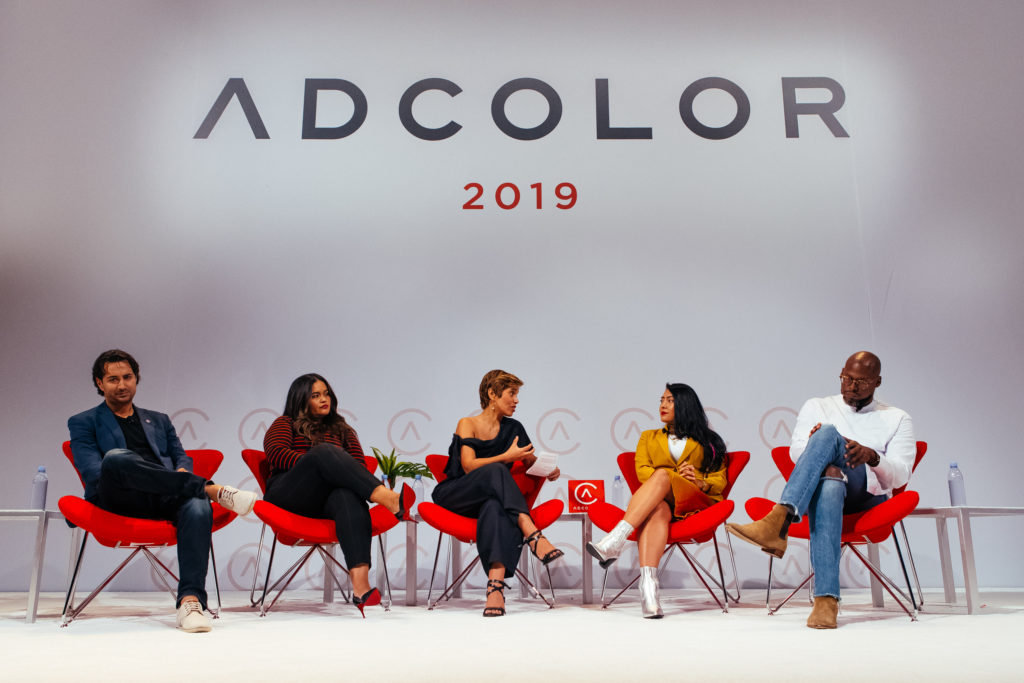 by Brandon Lee Heard, 2018 ADCOLOR Future Alumnus, Strategist at R/GA, and Black Afro-Latinx (He, Him, His)
———
There are more than 58.8 million Latinx people living in the United States. According to the US Census Bureau, that number is projected to double by 2060 comprising for nearly 30% of the total population. This multilingual, multicultural, multiethnic community is comprised of various nationalities, generations, racial and gender identities and socio-economic backgrounds, making it a challenge to lump everyone into a monolithic bucket, nor should they.
At the 2019 ADCOLOR Conference, Latinx for ADCOLOR was launched and with that came an inaugural Latinx Dinner and panel discussion on Defending the Latinx Diaspora. Panelists and attendees gathered to discuss being Latinx while navigating today's tense socio-political climate and defending their place in the diaspora. This candid conversation talked about the upward mobility of the Latinx community, its cultural contributions, the current issues faced and the ways to combat them.

Photo by Margarita Corporan Photography
The current state of the Latinx community and where to go next
The Latinx community has fought in every American war. Latinx food, language, and culture have shaped every aspect of American life, dating back centuries. Today they have a purchasing power of over 1.5 trillion dollars; and yet, Latin American children are being separated from their parents at the border, hate crimes against Latinx are on the rise, and policies are constantly targeting and maligning Latinx existence engendering an identity state of erasure. So, what's next?
In a study on United States Stress, conducted by Everyday Health, a leading consumer health and digital media agency, when asked about the current state of stress, nearly half of the respondents said that they feel invigorated when faced under the pressures of society.
On stage at ADCOLOR, Enrique Arbelaez, co-founder of CIEN+ and CulturIntel, said, "Sometimes it takes a superhero to wake up a super villain. In today's divisiveness, cultural empathy is a super power." He continued saying,"People are finally starting to say, 'you know what, there is power behind my culture and I want to activate it' […] That good shake up and struggle sometimes makes you realize that you need to take action to make change."
And in the midst of all this change, the media has only just begun bringing visibility to the Latinx community, but with the lack of Latinx representation, content has left a void that is being filled with fallacious, negative depictions and rhetoric on the community.
At ADCOLOR, Samantha Ramirez-Herrera, CEO and founder of OffThaRecord Inc, discussed today's false form of visibility on Latinx in media and says that despite this, "there's also conversations that can create progress. From every aspect [of] immigration, to our buying power, and to our voices on stages like this [ADCOLOR]." She says, "It's an opportunity for us to go wherever we want to go."
And folks within the Latinx community are stepping up to make this change. Karli Henriquez departed the corporate space after over 15 years in entertainment. She wanted to reconnect with her culture in a way that made sense, so she founded, Know Alias, described as an artist management, tour management, and brand development agency.
Henriquez says, "Students graduate college, go into these interviews and still can't identify with the person that is interviewing them or the hallways they are walking into and I want to share my story with them. It's their turn. It's now their chance to change it. It's their voice that will make a difference."
Looking at Gen Z, those who are entering or will soon enter the workforce, 1 in 4 are Latinx, not accounting for the 17 million Latinx millennials currently in the workforce. Together that's almost 40 million working or soon-to-be working Latinx people.
The Latinx community is here and has been here. From advertising, tech, entertainment and politics, people in leadership positions must become better at bringing an authentic and honest visibility to Latinx community and sometimes that can start from within.
During the panel discussion at ADCOLOR, Jason Rosario, founder and creative director of The Lives of Men, an integrated media and lifestyle company focused on chronicling the stories and diverse interests of men of color, shared his point of view on race, privilege and intersectionality within the Latinx community.

Left to Right: Samantha Ramirez-Herrera, CEO and founder of OffThaRecord Inc; Jason Rosario, founder and creative director of The Lives of Men | Photo by Margarita Corporan Photography
Rosario opened up the conversation stating what he believes the first thing the Latinx community needs to do. He said, "We need to re-educate ourselves about what intersectionality means to our community specifically and go beyond the macro intersections of race and color — and examine that we're marginalized in different ways including immigration status, including economic status, including class and color, etc. So, once we do that and do the work of identifying where we fall in the privilege continuum, then we can take action from there."
Candidly speaking, Rosario continued the conversation sharing his perspective being a Black Latino. He said, "When you speak towards White Latinx, you all marginalize us just as bad as our White counterparts and White folks do. Let's own that. Whether it's colorism, whether it's racism, or even completely saying things like Black and Brown, there is no such thing. You're Black you are from African descent.
In a recent report from the Pew Research Center, Latinx people with darker skin are more likely to have been subjected to racism and colorism than those with fair complexions. Additionally, those with darker skin say the discrimination is linked directly to their race.

Daisy Auger-Dominguez, Workplace Culture Strategist at Auger-Dominguez Ventures | Photo by Margarita Corporan Photography
Knowing this, ADCOLOR sat down with panelist moderator, Daisy Auger-Dominguez, Workplace Culture Strategist at Auger-Dominguez Ventures, to ask her what workplace groups (e.g. employee or business resource groups) can do to address the complexity and privileges within the Latinx community.
"We have a fragility in being able to really talk about the privilege of race and how to build our racial consciousness. And how do we use that as an opportunity, where possible, to open doors?" Auger-Dominguez says. "It's about creating spaces that feel safe for Black Latinx, creating spaces where they feel seen, and they feel valued and recognized. ERGS [employee resource groups] have to do that work to have that conversation."
This year's theme was #TakeAStand. The world is full of marginalised people, or people who are minorities because their cultural, ethnic, religious, racial or gender identities stand in contrast with the mainstream ones in the nations in which they live.
Daisy Auger-Dominguez says, "We have such a unique opportunity to #TakeAStand by knowing our value and knowing our worth. Using every single platform that we have whether you are a high-level executive or individual just starting at your job. We all have platforms that we can use to shine a light on the disparities and opportunities for the Latinx community in our workplaces, boardrooms, conferences, and creative spaces. That's how you take a stand. You take a stand by being very clear on your values and sharing with others what needs to be done."
—
Special thanks to our panelists:
Defending the Diaspora Panelist:
Enrique Arbelaez, Co-Founder, CIEN+ and CulturIntel
Daisy Auger-Dominguez, Workplace Culture Strategist, Auger-Dominguez Ventures (Moderator)
Karli Henriquez, Founder, KNOW ALIAS
Samantha Ramirez-Herrera, CEO/Founder, OffThaRecord Inc.
Jason Rosario, Founder & Creative Director, The Lives of Men
Categories
PR Contact
Katie Beaule
Press Releases from our media partners: MMR news, PRnewswire